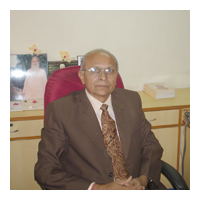 The paramount personality of Icon is Shri Bajibhai R. Patel - a veteran pharma manufacturer with Pharmacy degree obtained way back in the year 1965 from a century old and the most reputed L.M.College of Pharmacy, Ahmedabad.

The wisdom, insight and god-fearing nature has helped him to give a strong foundation to Icon and strides continuously yet cautiously in the field to strengthen the business. He is supported by his two young, dynamic and forward-looking sons namely Mr.Bhavik Patel and Mr.Vijay Patel. Both have imbibed the knowledge of pharma field and marketing of the products respectively. Mr. Bhavik Patel, being a postgraduate with chemistry, is familiar with New Chemical Entity (NCE) and trying to explore new chemicals for their therapeutic potential. He is also looking after all company's affairs with his managerial and organizing skills.

He has also obtained management degree from one of the professional management institutes of Ahmedabad.

Company's ethical marketing is being handled by Mr. Vijay Patel. He has got 4-5 years training in this field from a very senior Marketing expert. He is also getting guidelines from Shri B. R. Patel (M.D.). Mr. Vijay Patel is energetic & well experienced in marketing. This will help to increase annual turn over of the Company. No doubt, Company's growth depends on it's healthy marketing & distribution system. His contribution leads to a great extent in the growth of the company.